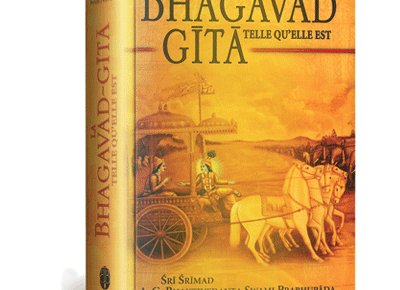 While at Bangalore..
Bhagavad Gita , is a religious text that is a book within Mahābhārata, located in the Bhishma-Parva chapters 23–40.
A core sacred text of Hinduism and philosophy, the Bhagavad Gita, often referred to as the Gita, is a summation of the Vedic, Yogic, Vedantic and Tantric philosophies. The Bhagavad Gita, meaning "song of the Lord", refers to itself as an 'Upanishad' and is sometimes called Gītopanişad. During the message of Gita, Lord Krishna proclaims that he is God Himself (a Bhagavat, or all-embracing personal god). In order to make Arjuna believe this, he shows Arjuna his divine form which is described as timeless and leaves Arjuna shaking with awe and fear.
I owed a magnificent day to the Bhagavad-Gita. It was the first of books; it was as if an empire spoke to us, nothing small or unworthy, but large, serene, consistent, the voice of an old intelligence which in another age and climate had pondered and thus disposed of the same questions which exercise us.
Ralph Waldo Emerson
As an Indian I respect Ralph Waldo Emerson's thought for the respect he has shown to the sacred book. However I wish to share a small incidence which made me blog on the topic "Indian Culture at footpath".
On December 19th, 2010, I visited the ISKON temple at Bangalore with my friend Charan for the first time, a magnificent temple devoted to lord Krishna. The silence there and the chantings really attracted me. After Darshan I went downstairs to buy some malas for me and visit the stalls…before that I found different types( size and different authors ) kept near the main Gopuram for sale at a nominal rate.
Now all these activities have their on  purity and sensitivity whatsoever they are doing or selling.
However the main thing which made me sad was, on my return journey to Chennai from Bangalore, we went near the private bus-stand near Majestic, where I found "the same Bhagawat Gita (which I saw at ISKON) being sold on the footpath at much lower price".
So , my question , I wish to ask through this blog is – Why such discriminated marketing is happening when it comes to the Nation's oldest Epic ?
Well it's high time that , we Indians need to make some time to look back into our culture, respect the elemental traces which keeps them still alive.
Thank you,
HareKrishna HareKrishna Krishna Krishna Hare Hare
HareRama Hare Rama Rama Rama Hare Hare